Ever since the first time I went to the Wind River Range with Drew back in the 80s, I have been inspired and compelled by the Wind's seemingly endless supply of alpine beauty. After doing several trips to the area near the Cirque of the Towers, Warbonnnet Peak, guarding Jackass Pass on the way to the such classics as Pingora and Wolf's Head, always glimmered at me like a throbbing obelisk of stunning splitter.
For some reason, I thought the Wind River Range was on the way on my cross-country jaunt from Park City, UT, to Seattle, WA. Just for future reference: it is not.
As for the climb, it was put up in the 80s (I think) by badasses Charlie Fowler and Jeff Lowe. This route is characterized by nearly immaculate, steep-to-overhanging, splitter. 8/9 pitches were at least 45 meters long... strenuous enduro-fest style pitches typically comprised of a perfect crack running the same size for most of the pitch's length. Think Indian Creek in granite 700 feet off the deck.
Most of the gear was large. An ideal rack for this climb would be singles up to #1, 3x #2, 4x #3, 4x #4. I know that sounds unreasonable, but when you're climbing rattly hands and fists at .11 on a 180 foot pitch, it makes sense real quick. I often found myself afraid to go higher because I had used my two #4s on the first 80 feet and there was still 80 more feet of off-width treachery above.
The crux pitch, like all the other pitches, was long, sustained, and slightly overhanging. I think I lost about 1/3 of my bodyweight on it.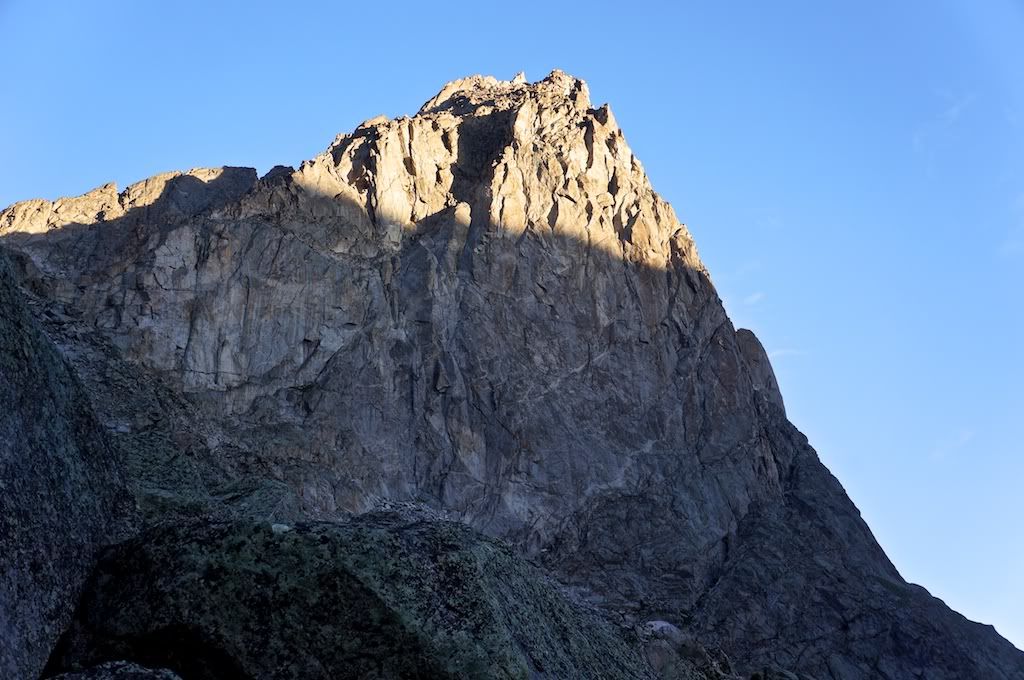 Warbonnnet, from near Big Sandy Lake. The line follows right center of the main face, following the ramp and white vein to the giant chockstone.
Liz starting up the 1st pitch. If you're scared here, you're doing it wrong. Traverse far right, looking for a broken 5.8 looking pitch. You can traverse from a higher ramp where it looks like some people tried to go straight up and epic'd on hard slab. Do not do this.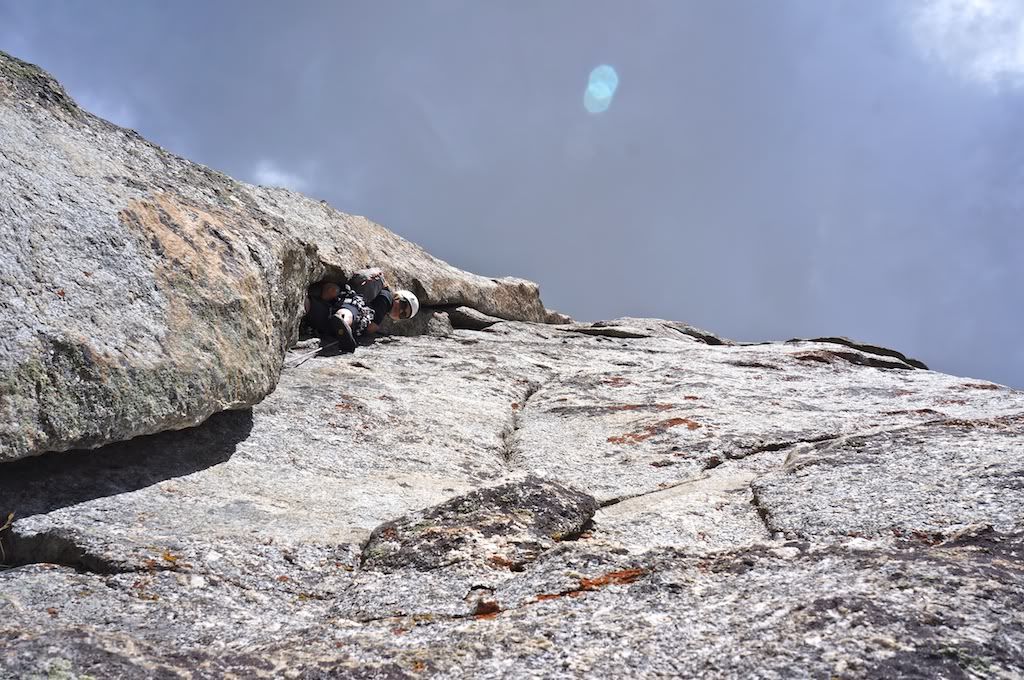 Liz leading the 3rd pitch. A sustained and long .10+ corner. Very high-quality hands.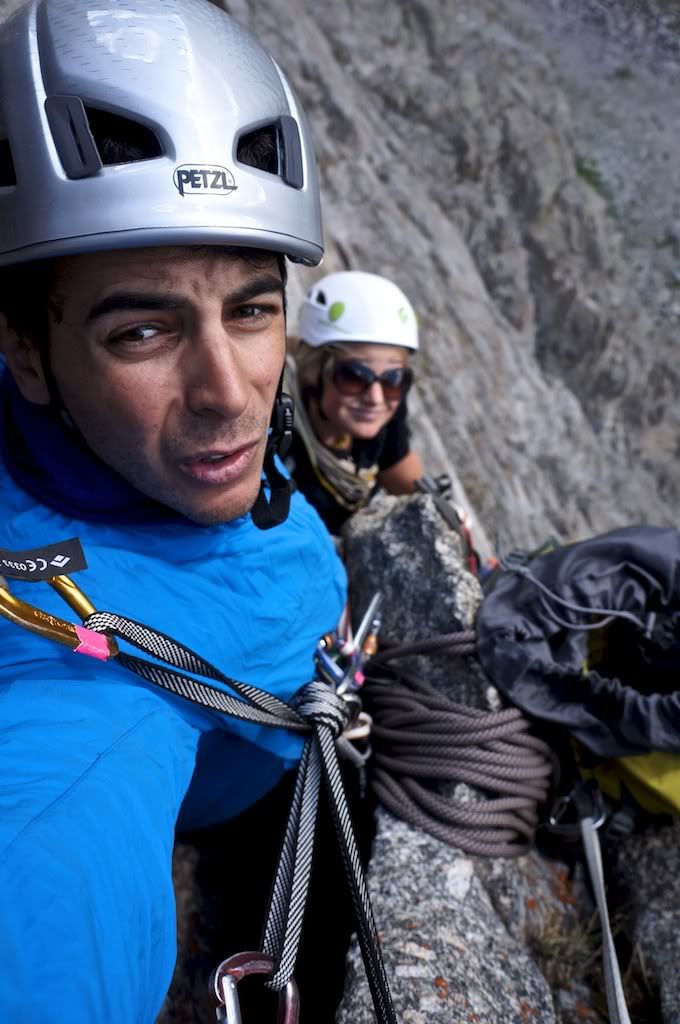 Us on the belay, getting scared. An 11 am thunderstorm squall hits us as we prepare for the crux pitch. Gusty winds and dark skies with the occasional snow flurry made us huddle and contemplate life for a minute.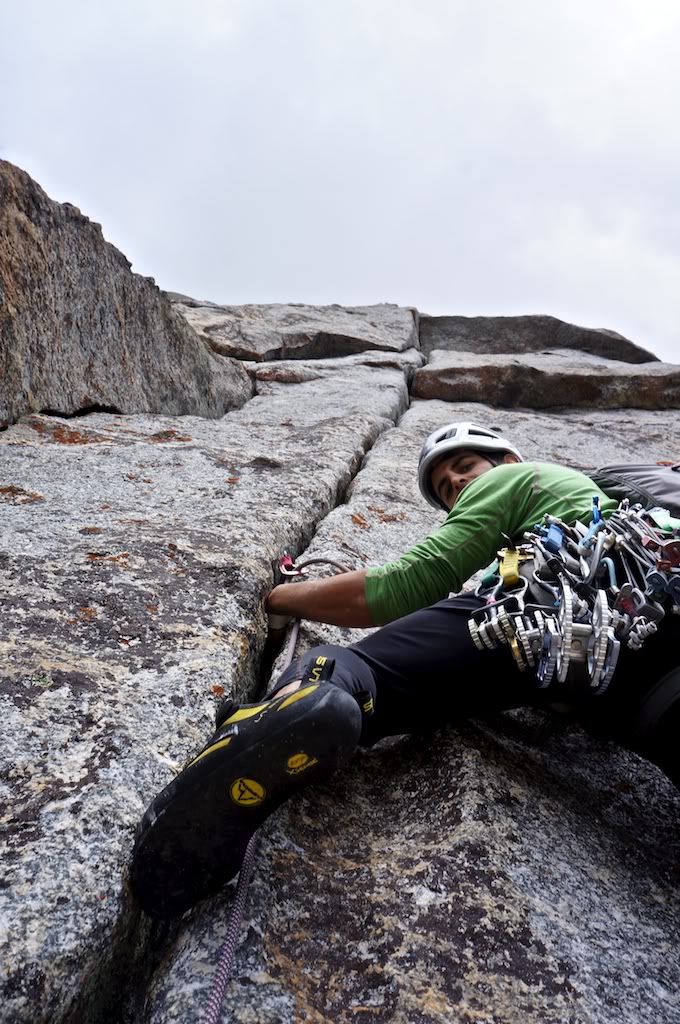 Me hopping onto the crux pitch. This lower part was fun 10+ moves over roofs to the insanely strenuous loose fists crux (.11) above (out of sight). Do not underestimate this pitch. It will throttle you.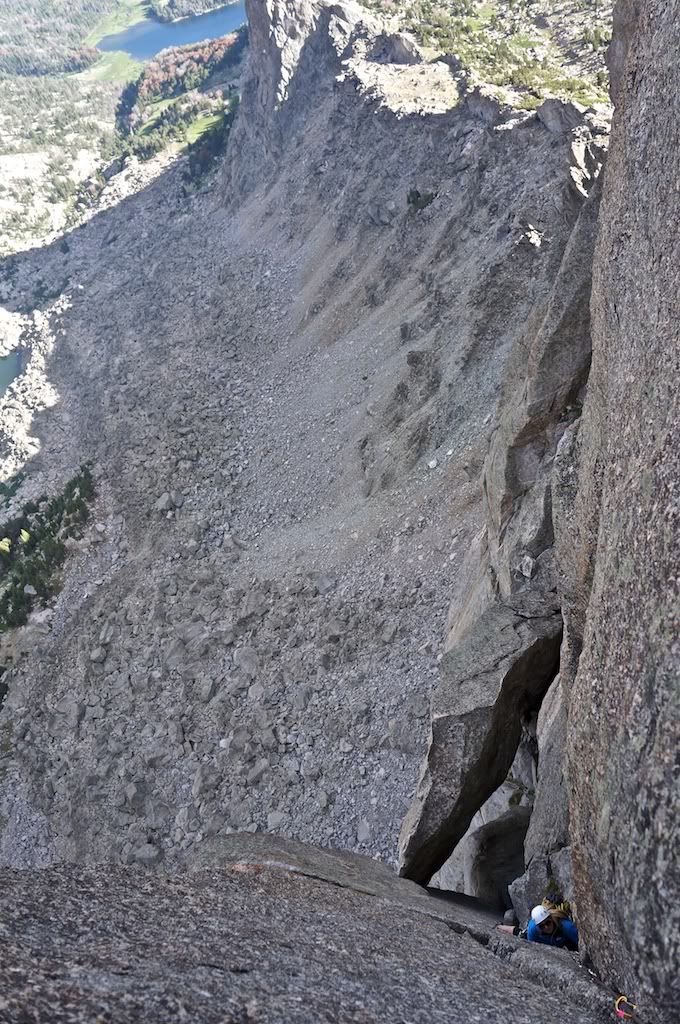 For the last pitch, we belayed above a slab to the right side of the giant cockstone. This was a nice 10+ 150-foot 4.5 offwidth. Solid ass-whipping finish. Above the chockstone slab, you have two options (well three if you count chockstone-left that we didn't even look at because it sounded sub-par). You can either continue up the corner (right), or go up left up a featured hand crack. I started up the hand crack and it seemed very licheny and unclimbed. I later read somewhere it was rated 5.8. The off-width corner I climbed was hard and somewhat dirty as we were quite whooped at this point.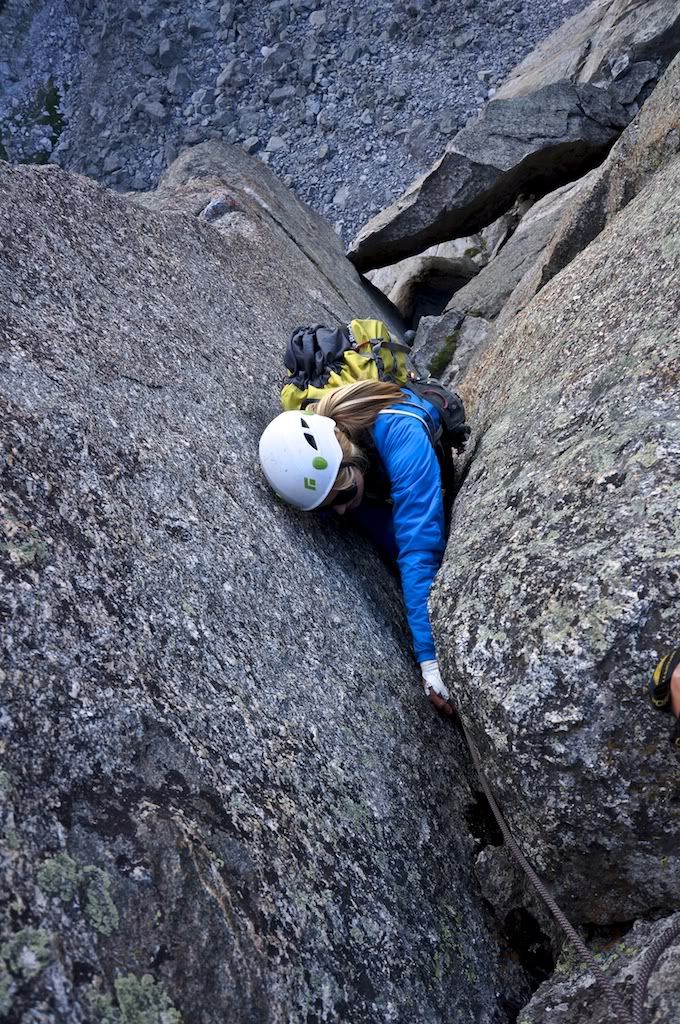 The scramble begins at the end of this (9th) pitch and nearly 800 feet of climbing. I was ready for a pastrami sandwich, foot massage, and a diet coke at this point.
The Cirque from the summit with Wolf's Head et al.
The scramble is about 200 feet and quite fun. We summited at about 7pm and made it back to camp via a small notchy choss gully leading back to the start of the climb.
We made it back to camp at dark and woke up the next day just in time to drive 17 hours back to Seattle.
Some other notes about the beta in the Guide (Kelsey) and Mountain Project: the pitch lengths are all wrong on mountain project. Maybe it's because ropes are measured in meters and estimating pitches in feet is a useless and absurd endeavor. All the pitches are shorter than Mountain Project. That's not to say that aren't super long. Bring big stuff, leave the little stuff in the car. I can't tell you much I would have loved to have some more camalot 3s and 4s. Bring two ropes as there is almost no in-situ gear for an escape and very few horns to sling. If rain had forced a retreat, we would have been less than ecstatic. As for linking the pitches, unless you have a stupidly huge rack, this is pointless and probably won't save you time. We had a 60m rope and I was well out of gear on the pitches that I felt I had ran it out. We had a standard double rack. Other than that, it was probably the best granite I've ever climbed in the mountains.
--Liz Daley, Instructor and Guide