If you've been anywhere in the Northwest you know that this season has gotten off to a weak sauce start. An early season drought with super high and low temps back to back makes for a less than desirable snowpack, or lack there of. Teaching my
splitboard clinics
on the weekends and planning trips that have gotten shut down due to conditions built up some definite anxiety to get out and find some pow.
A week and a half ago after we realized a storm was coming, my friend Blaine and I decided we were going to just go and try to get rad somewhere in Canada. Ha! Even if it meant a heinous bushwhack, riding an icy couloir somewhere and an epic fail, we just needed some adventure and to get worked. We planned on going up into Joffre Basin until we heard the storm of the winter was headed to Revy. We packed our bags, I made some hut reservations and after an awesome dance party in Glacier, Washington ringing in the New Year, we were out with wicked hangovers and all.
We had two of the best resort riding days of my life at Revy. We rode with some rad random friends who followed the storm and all came up from Washington. After there was no more pow to be ridden at Revy, the kegs had been dried, the burgs had been eaten and the hot tubs poached, we headed to Roger's Pass for some fun laps on the Grizzly Shoulder with Louie Dawson and a million splitboarders. Apparently it was Splitfest in Revy. It was a stormy, high/considerable avy day so we stayed in the tress and I didn't get many pics because of too much POW and bad vis. We couldn't stop saying POW! Like in this clip from Stepbrothers:
After choking on deep pow in the trees we headed to the Asulkan Hut for a couple nights. It was a long flat approach up a deep valley but to our surprise it went totally bluebird!
So we were happy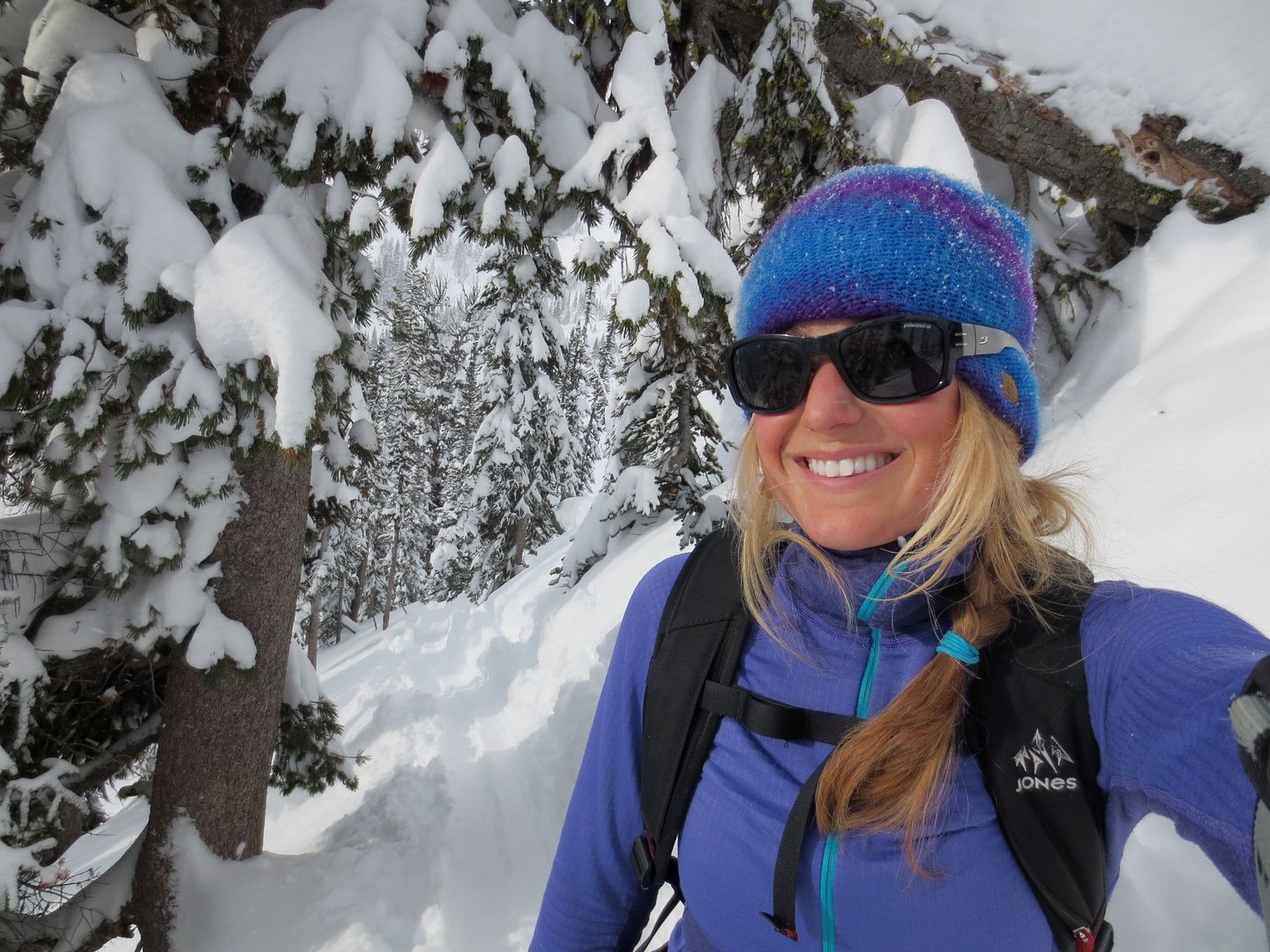 We dropped our stuff off at the hut and went out for some tasty tree laps.
To our surprise the hut was filled with friends from Washington! Win. As we drank whiskey that night and talked about objectives for the next day it seemed everyone wanted to go big and get rad. There was talk of riding the Forever Young Couloir, Youngs Peak Headwall, this huge high consequence face that was visible from the hut. With all the new snow, the considerable forecast and the "persistent layer" everyone kept talking about I thought it was going to be pow, tree shredding the whole time we were up there. I was cognizant of the "human factor" happening before my eyes. I had little aspirations for anything big at this point but agreed to try to get up to the top of Youngs Headwall the next day and "maybe" look into the couloir, knowing I wouldn't have a problem turning around at any point and heading down a safer route.
The sunrise the next am with the Asulkan hut and my new girlfriends, Natalie and Jean below.
The snow on the headwall was actually really consolidated and felt good. Blaine and Miles !PRO PATROL! charged up the headwall and we followed one at a time. The wind howled at the top, and we dug a pit and discussed our options.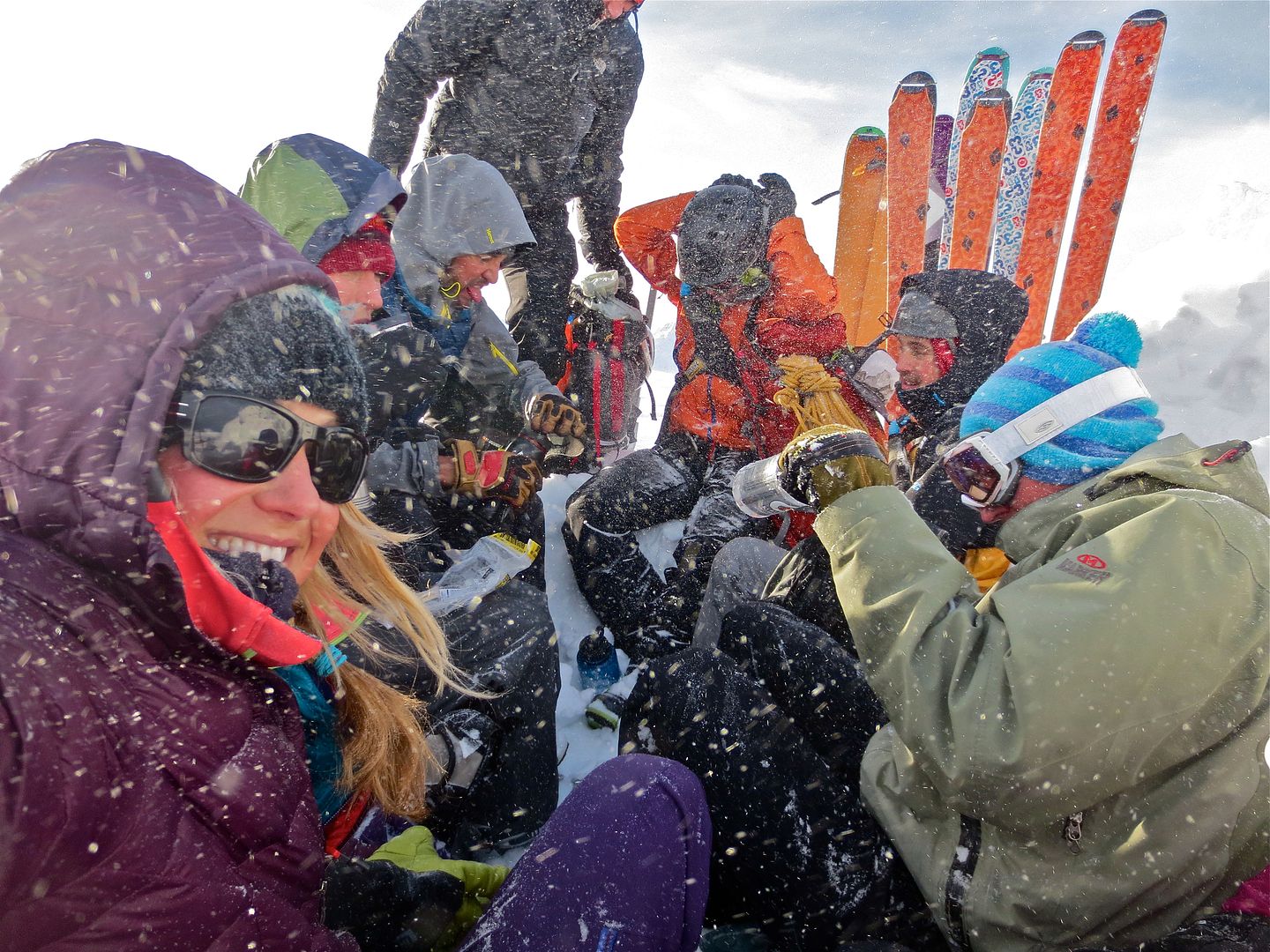 Team "Blaine and the Babes" decided to traverse the ridge and check out the couloir.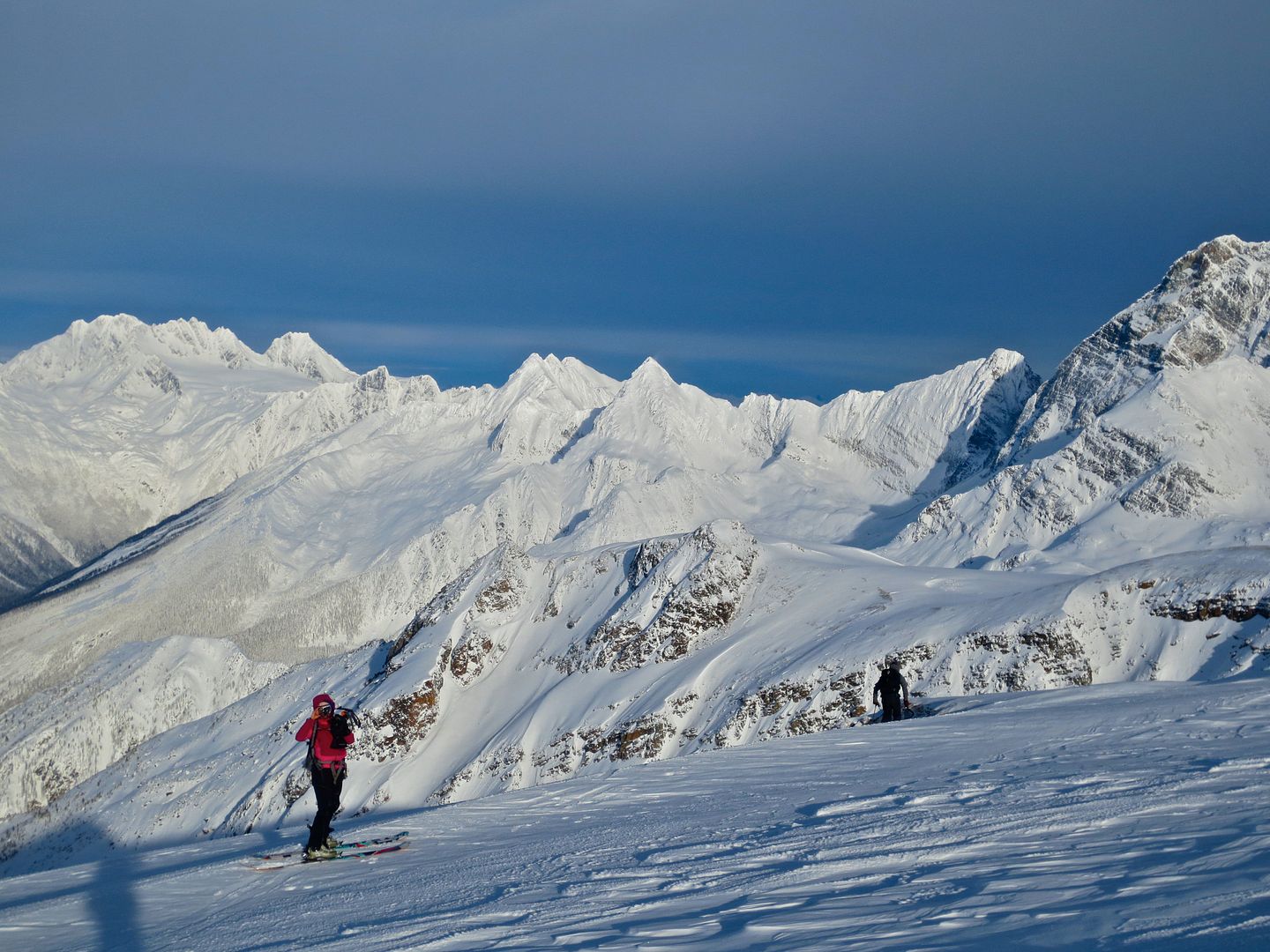 The top of the couloir was kind of steep and super firm, wind-buffed pow. It rolled over a bit then mellowed out. Blaine ski cut the whole thing a couple times and sluffed it out. Thanks Blaine.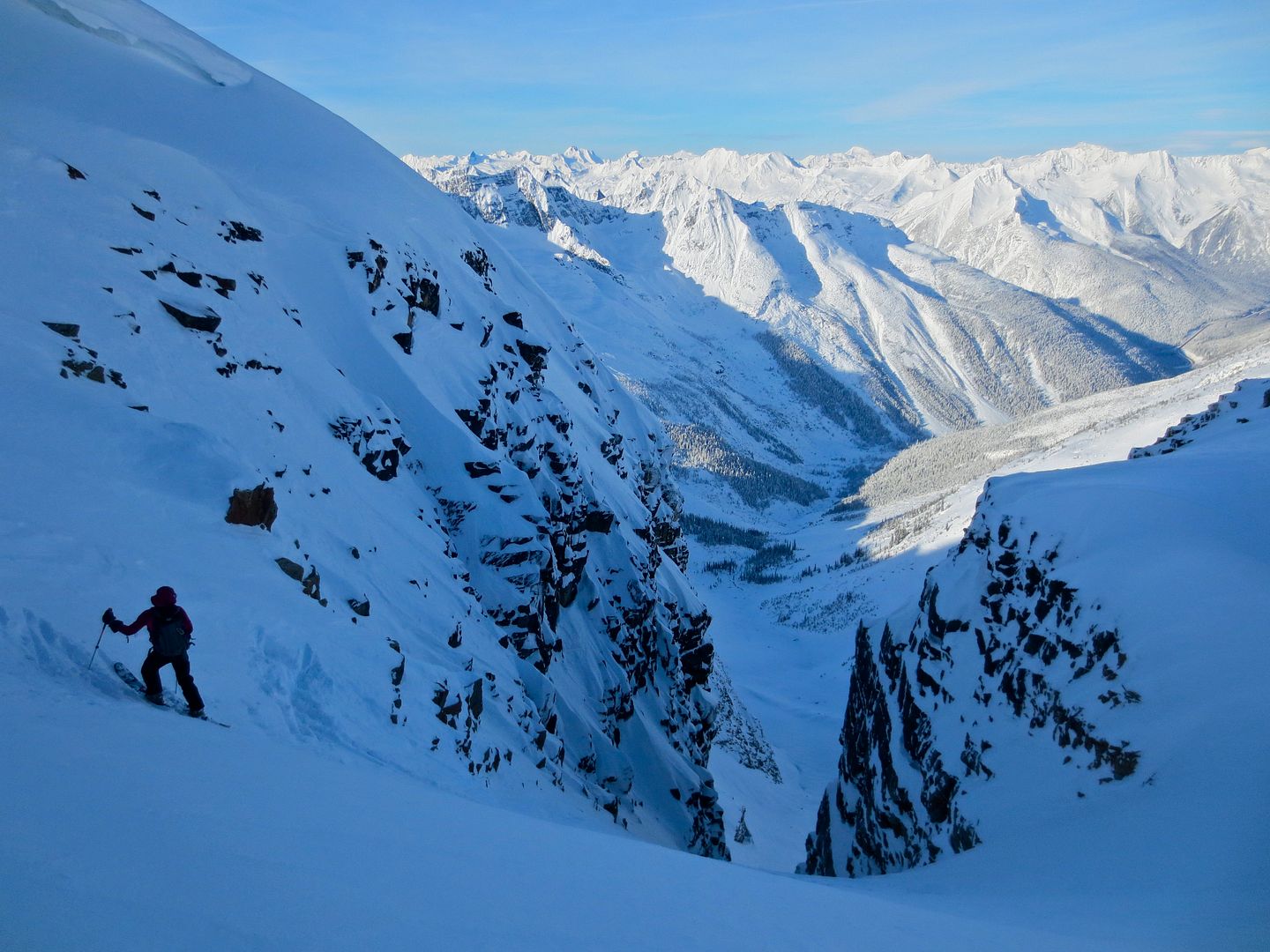 The ladies let me go second and I ripped it top to bottom making this one of the best rides of my life! Or at least the season. #Theperfectdescent #Bestfeelingever #SOSTOKED #POWDER #Ilovemylife #OMG
We love new crushing girlfriends, Natalie and Jean!
With new best friends made and an awesome descent had we were bummed to be out of food and forced out of the hut and into town. Even worse, more friends, the Kyle Miller, Holly Walker, John Cocci and Scott Rinckenberger were on their way up for the next couple of days. In town we drank beer, ate BBQ chicken pizza, took our first shower of the trip and decided we needed a rest day.
Day 6: The next morning over coffee and sticky buns at the best bakery EVER, The Modern in Revy, we decided rest days are boring. With $100 of whiskey we headed back up to the Asulkan to join our friends for one more night and one more day of shredding pillows as another storm was headed in.
Success.
Which led to even more success. A half naked calf competition and dance party.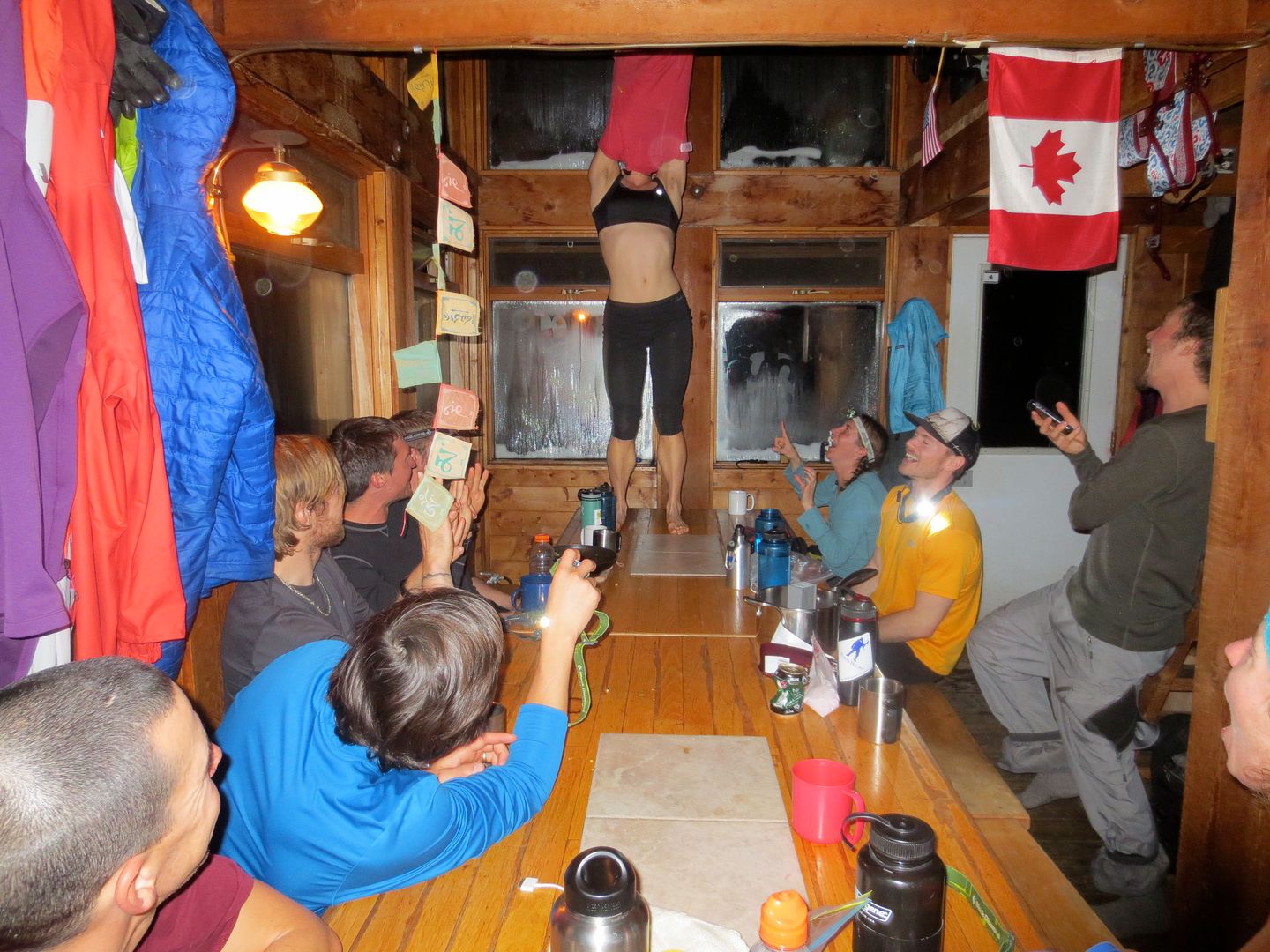 The following morning we scrubbed the hut down with bleach, took more than our share of garbage and choked on more powder in a storm. Scott Rinckberger photo:
http://www.scottrinck.com/
Best week EVER! Headed to Whistler next week and can only hope for more good times such as these! Thanks everyone who made this trip EPIC! Blaine, Huw, Meaghann, Kaden, Kyle, Holly, Scott, John Louie n friends, Miles, Chris, Jeff, Reed, Natalie, Jean, James and Serena and everyone else. We heart Canada.
--Liz Daley, Instructor and Guide