In 2001, I attended my first American Mountain Guides Association Annual Meeting in Yosemite Valley. I was standing at the campfire, looking for someone to talk to. I didn't really know anyone as I hadn't been guiding very long.
Suddenly, a small-statured man with white hair and muscular forearms offered me a beer. I accepted and was quickly stunned to find out that the man was a living legend:
Doug Robinson
Doug welcomed me to the meeting and I spent the evening talking to him. I was still a young guide and had a lot to learn. The wise old guide had a lot to say and I found it to be a very enjoyable night...
Doug is an incredibly well-known and respected climber and guide. He was at the forefront of the "clean climbing" movement in the early 1970s. He pushed back against the use of rock-altering pitons in favor of equipment that didn't damage the rock. In his essay,
"The Whole Natural Art of Protection
," he argued for the use of "chalks" or what we refer to now as wired nuts in lieu of pins.
Doug did more than lecture his contemporaries. He practiced what he preached. In 1973, he made the first clean ascent of Half Dome. This and the subsequent article in
National Geographic
magazine cemented his place in climbing history.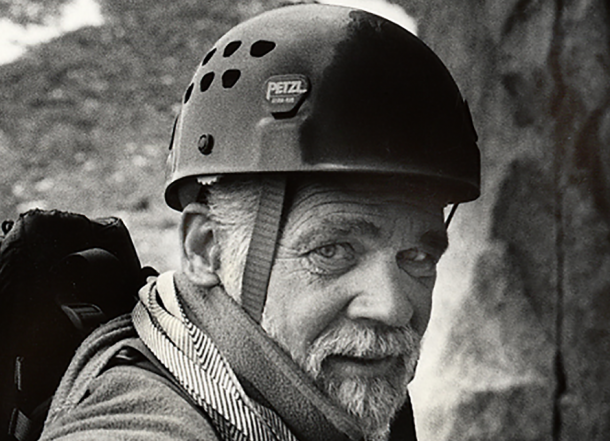 In addition to leading the clean climbing revolution, Doug has been responsible for dozens of first ascents in the Sierra. Most notably, he made the first ascent of Dark Star on Temple Crag, made the first ice ascent of V-Notch Couloir, made numerous first ice ascents in Lee Vining Canyon, made the first ascent of Ice Nine, and finally he made the second ascent of Ama Dablam (22,495') in Nepal.
As a mountain guide, there may be no one more prolific. He was the first president of the American Mountain Guides Association and has been working as a rock and alpine guide for over fifty-years...
In addition to being a climber and a guide, Doug is a writer. And his most recent offering is a book that explores climbing in a very different way than anybody has previously. The question as to why people climb is as old as the sport; and people answer it in lots of different ways. Doug takes on the question and answers it in a completely new way. In his book,
The Alchemy of Action
, Doug argues that people climb because the activity releases a series of complex brain chemicals, which provide a feeling of euphoria. Indeed, the cover of his book reads:
Why do people climb mountains?
Because it gets us high.
But adrenaline junkies we are not,
and beta-endorphin isn't behind the runner's high either.
The surprising answer reveals natural psychedelic transformations
at work deep in the brains of adventure athletes.
The book is an exploration of brain chemistry through the lens of adventure sports. Doug looks at skiers and runners and climbers and delves into the complex cocktail of brain drugs that induce feelings of euphoria when climbing or the "runner's high."
There are five hormones that are released into the brain to create the feelings that we strive for in the mountains. They are noradrenaline, anandamine, serotonin, DMT, and dopamine. Each of these are released for different reasons.
Note that adrenaline was not one of the hormones on the list. Adrenaline is a "fight-or-flight" chemical. It generally comes in a rush when something very dangerous almost happens. It is not really what people strive for in their mountain sports, the idea that climbers are "adrenaline junkies" is completely false.
Doug's book delves deeply into each of the chemicals and then discusses how they interact with an athlete and make him feel. He explores these through a mix of chapters on brain chemistry and active adventure stories, bringing us on a complex journey to understand why we actually climb mountains...
The Alchemy of Action is a little dense at times. There is a lot of science packed into the book. But there is also a lot of adventure in there. And while there are a few sections that take a lot of focus for someone who isn't "science-brained" to get through, it's well worth it. Doug's anecdotes and his take on what makes us do what we do is well worth the time...
--Jason D. Martin