It has been dumping over the last month in Washington as you may have known. Mt. Baker has the second largest snowpack in the world right now at 157.9 inches, not very surprising, right? After the entire Mt. Baker ski area closed for 3 days during the snowpocalypse we had epic blue-bird days for a week or so. I taught a splitboard course in Mt. Baker's backcountry and was tormented, looking up at Mt. Shuksan for three days straight. The NW Courloir was looking so irresistible with the stable snowpack we've had with only further stability projected. I was hoping to get up there before the weather/stability shifted or I'd surely loose my mind!
This is what I had to look at for three days:
Here's a zoomed in shot of the route from the BD website. The NW couloir is a 50 degree, super exposed line. It starts with the blind roll-over at the top which can be pretty intimidating, then you get to the choke which is a short section of 50 degrees. At the base of the choke you make a sketchy exposed skiers left traverse, above some cliffs, out of the couloir onto the face. After this you enjoy a steep slide down 2,500 +/-, which gradually turns into a less gripped free-riding frenzy down to the Salmon Creek drainage. We shredded from the col at the top of the Crystal Glacier at about 8,600ft down to Salmon Creek drainage at 3,000ft. Making this about a 5,600 ft line! STOKED!
Blaine and Rhett, Pro patrol watch out! We left Bham at 2:45am, leaving the Mt. Baker parking lot at 4:45am. None of us had been up Shuksan before so we were playing it safe time-wise. A 4:45am departure proved to be more than enough time.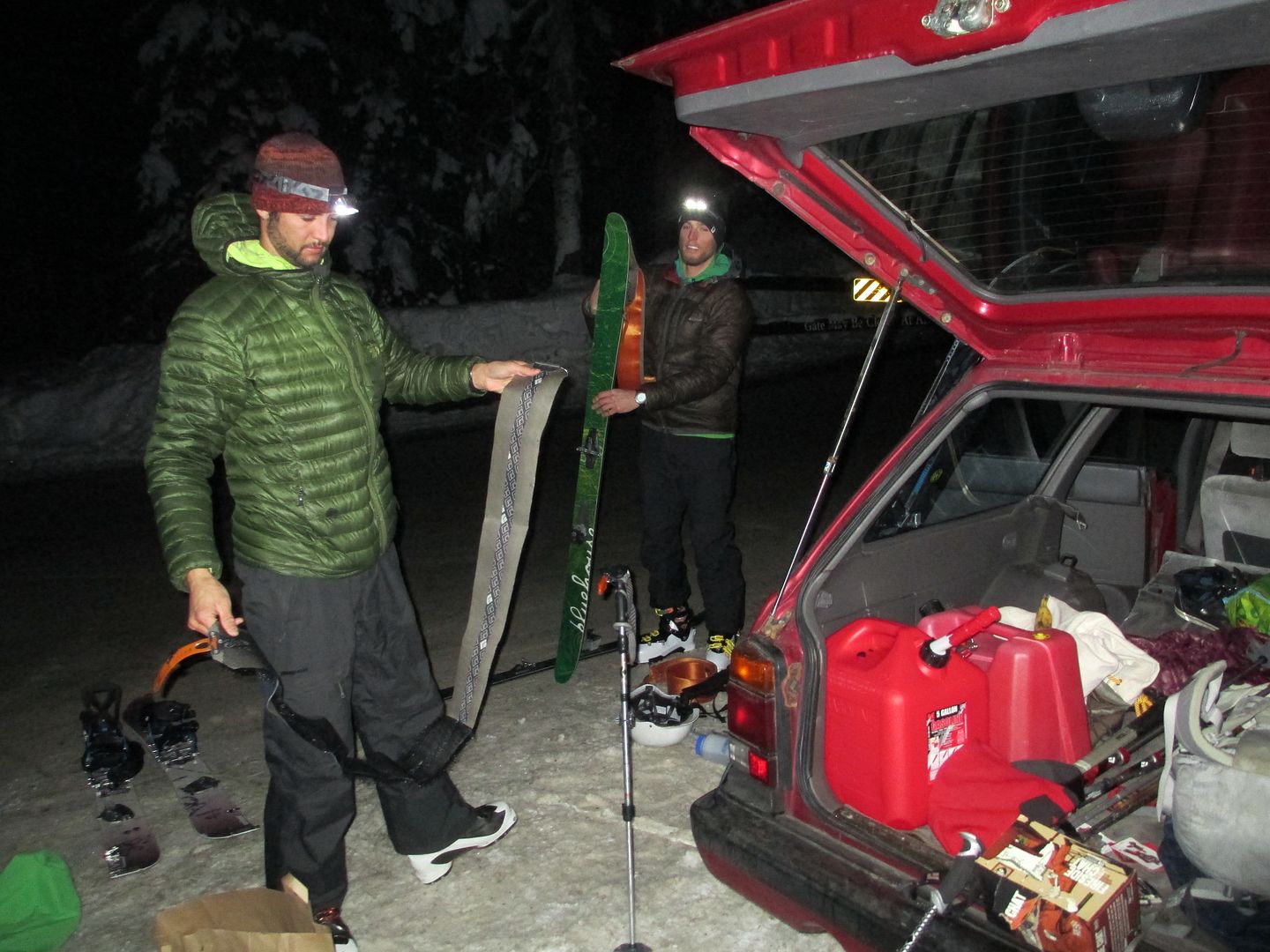 Sunrise on the skin up the White Salmon Glacier. Blaine convinced me that it wasn't him that smelled like shit, it was my hat.
Mt. Baker at sunrise, so epic!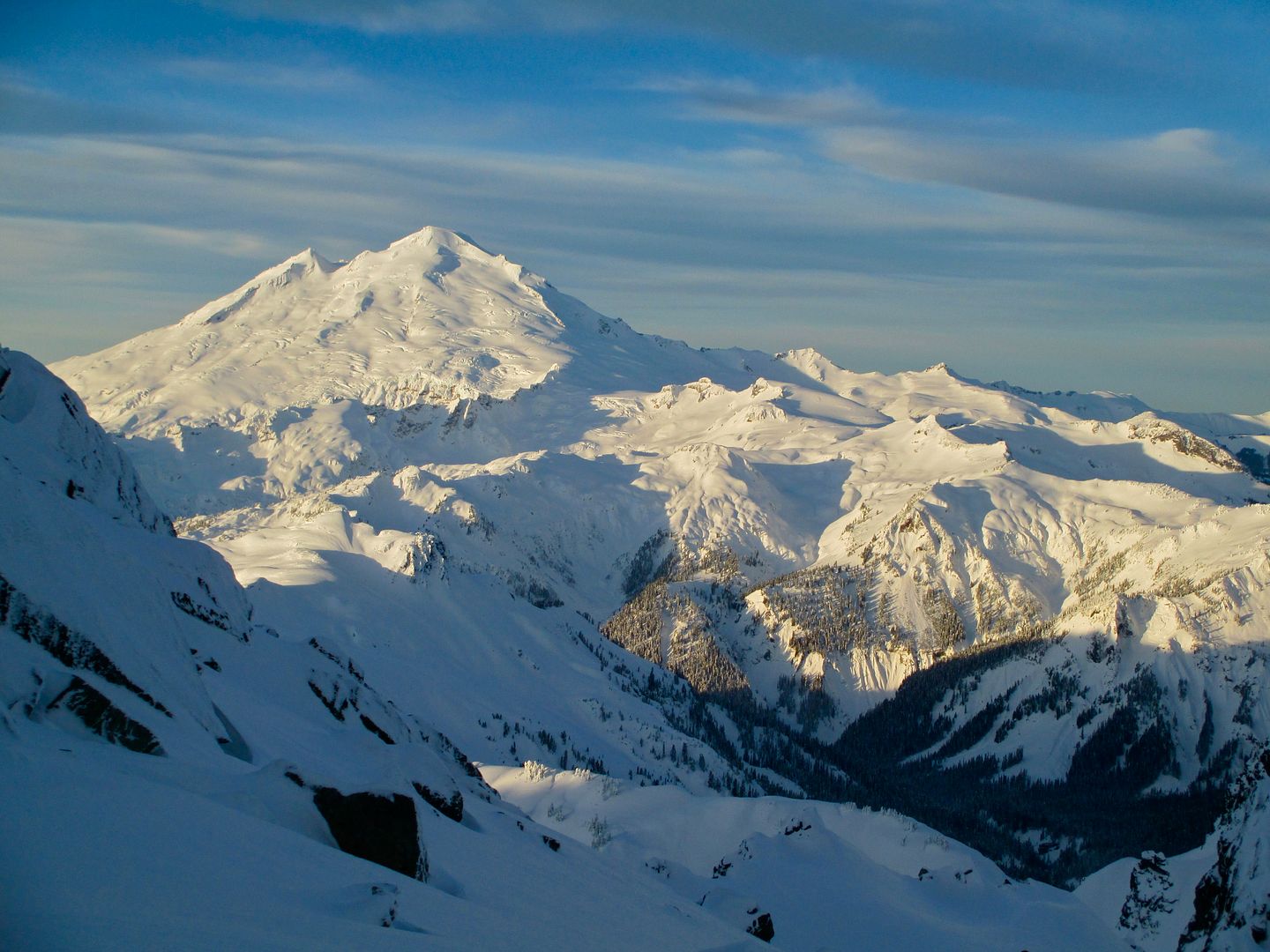 Unfortunately the only pic I got at our high point and the only sun we experienced all day. Shuksan summit pyramid behind me.
Rhett dropping. Since none of us had been on Shuksan or knew exactly where the entrance to the NW Couloir was, we dropped in far skiers right against the rocks in a well defined steep couloir. We descended about 400 ft when it turned to blue ice and cliffed out right above the NW Couloir. We could see down the entire line but there was no way to get down safely with 4,000 feet exposure below. I anchored myself into the blue ice, carefully changed over to crampons and we all hiked out. When we dropped in again we stayed more skiers left and dropped over the blind roll-over to a steep face with no crevasses that led directly to the entrance of the couloir. Ya' live and learn...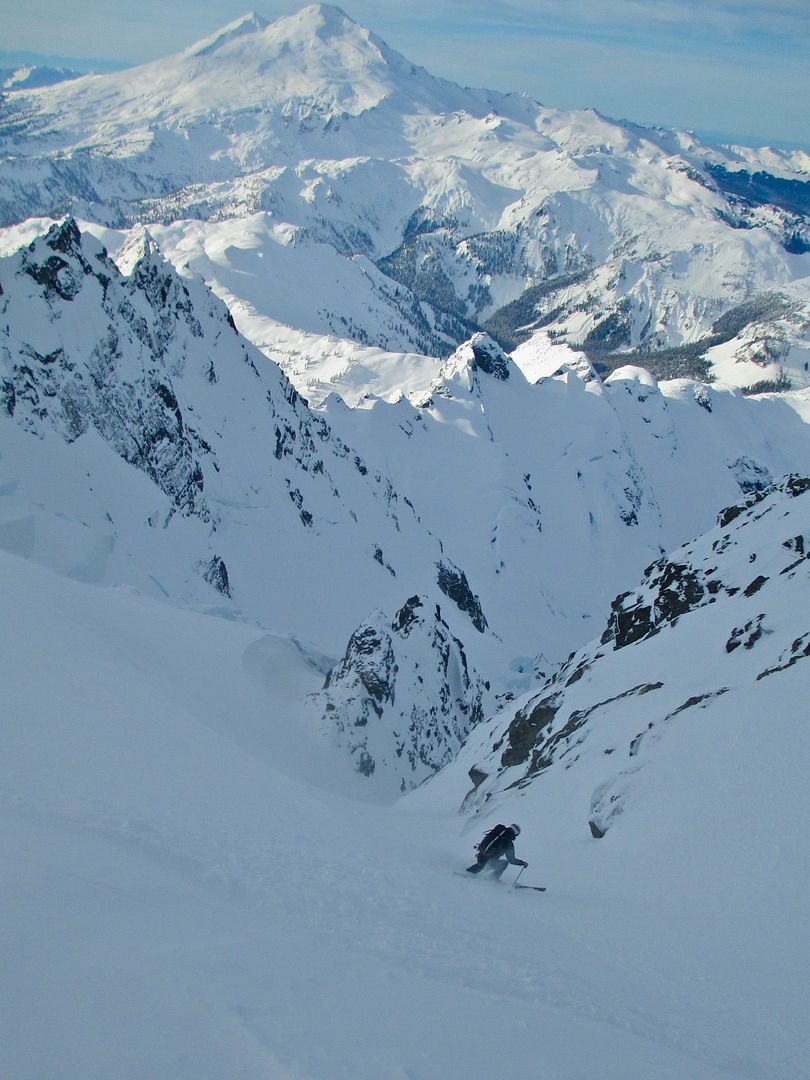 Blaine jump-turing in the choke the traverse below.
So stoked to be done with crux and heel side traverse, I put my axe away and we prepare for shred.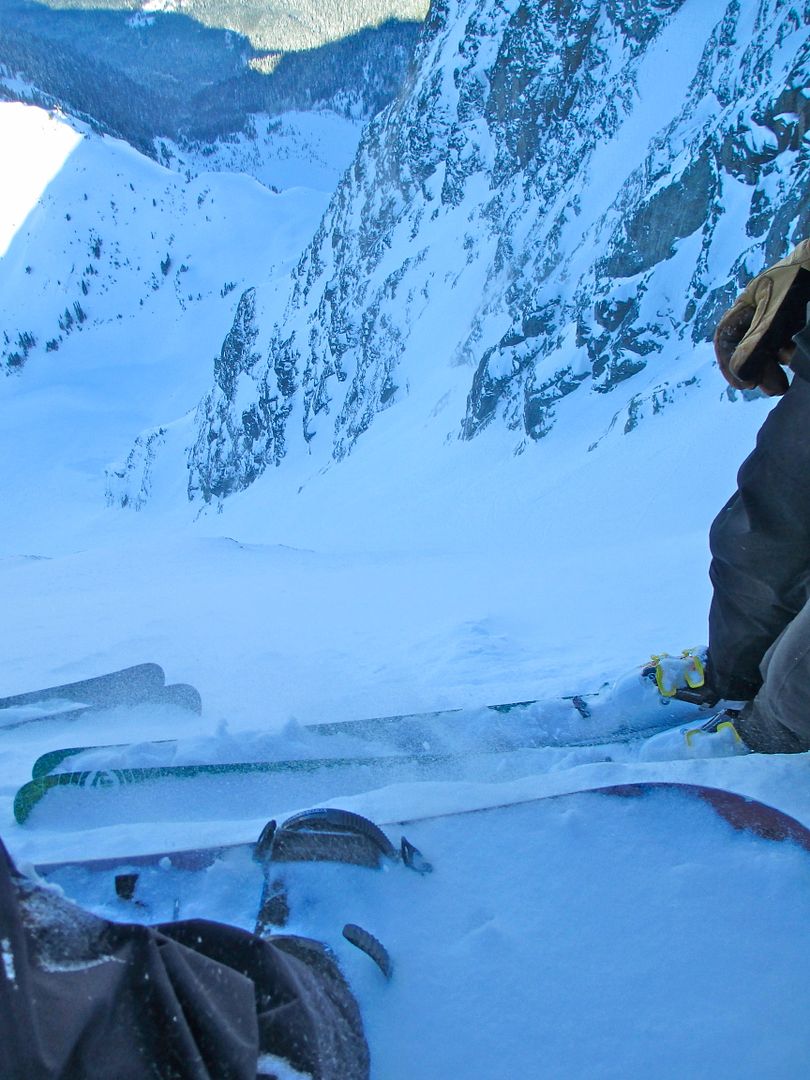 Steep, kind of scary but the snow was firm and edge-able pow the entire way. It got a little variable towards the bottom of the face but soon after turned to carvable goodness.
We began hiking out of the drainage at 1:30pm, had a 700ft climb then skin/ski back a cat-track to the White Salmon Lodge. Plenty of time for champagne in the parking lot staring up at Shuksan as the sun went down.
Good times had by all! Thanks Blaine and Rhett for a great day!
--Liz Daley, Instructor and Guide